Kirtipur- 8 March, Currently Kenya are in a tour of India, having been playing total of three matches against Baroda Cricket Association (BCA) Kenya have managed two wins and a loss.
In the first match on 4th March 2017 touring Kenya loss to Baroda Under-23 cricket team by four wickets. Batting first Kenya set a target of 248 for the loss for eight wickets in 50 over's. Collins Obuya scored half a century (52) for Kenya, Shem Ngoche managed to score 31 off 36 balls and Karan Kaul scored 25 off 72 balls. These were the noticeable performance by Kenyans batsmen.
In reply, Baroda reached the target, with four wickets in hand. Three batsmen for Baroda scored half century. Elijah Otieno took 3 wickets for Kenya. Nelson Odhiambo took 2 wickets and Nehemiah Odhiambo took 1 wicket.
In the second match on 6th March 2017 Kenya defeated Baroda cricket team by one run. Kenya batting first set a target of 251. 22-year-old batsman Dhiren Gondaria scored 118 off 109. Former national team skipper Collins Obuya scored 40 off 42. Wicket keeper and opening batsman Irfan Karim (20), Nehemiah Odhiambo (22) and Shem Ngoche (11). Obanda, (5), Skipper Rakep Patel 4 (11) and Rushabh Patel 5(9).
In a reply Baroda cricket team were 249 all out with one ball remaining. Nehemiah Odhiambo took 3 wickets, Ngoche 2, while Rakep, Otieno, Lucas Oluoch and Pushpak Kerai dismissed one player each.
Kenya wins by 38 runs against Baroda Cricket Association in their third and last pre-Nepal match preparations played on 8th March. Kenya will depart for Nepal on March 9. See the scorecard of third match here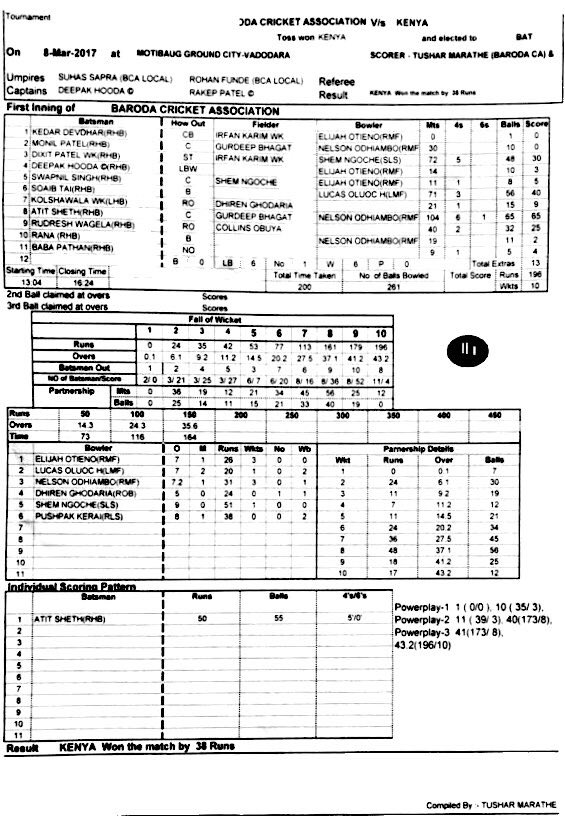 Source: Cricket Kenya
Kenya is in a preparation for a match against Nepal which is scheduled to be on March 11-13 for a crucial 50 overs ICC World Cricket League Championship. For both Nepal and Kenya these matches are must win matches to enhance in taking part in next year's World Cup qualifiers set for Bangladesh.
(Updated on 9th March.)